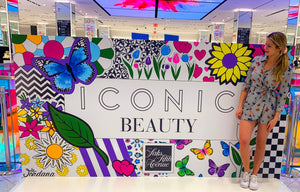 Branded Art & Design Collabs
We will work together to personalize artwork and custom designs for your brand. We design artwork for packaging, product design, branding, and product launches with our unique and one-of-a-kind designs. We also create limited-edition collections and collaborations with brands and corporate clients. Our artwork and custom designs reflect each brand we work with while showcasing by Jordana's fun, vibrant, and personal artistic style and attitude.
Custom Invitations & Logo Design
We can create one-of-a-kind design work for your next event, including logo design, invitation design, product design, and branded artwork. We will work together to create special, unique, and personalized designs for your memorable moments!
Wall Art & Mural Design
At by Jordana, we can paint murals and create artwork for your store or event space. You can commission a piece of art for your space or hire us to curate and create a large-scale mural with unique artwork that reflects the personal style of your space.