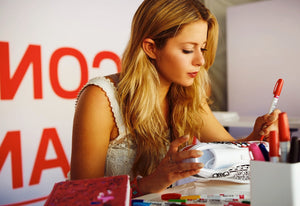 JORDANA'S CUSTOMIZATION STATION
Custom Events & Services
Jordana's Customization Station hosts a variety of custom events across the country. Our events range from in-store retail events to brand and corporate activations to social parties and celebrations. Our custom services include hand-drawing, painting, heat-pressing, patching, and more. We customize a variety of products including apparel, accessories, footwear, and more. Jordana and her amazing team provide a memorable custom experience by offering unique and personalized design choices as well as outstanding customer services and guest interaction at each event.
Brand Events & Activations
We team up with brands and corporate clients for a variety of different events such as press parties, store openings, corporate events, product launches, music festivals, influencer events, and more. Our custom activations add a unique experience to each event, showcasing and promoting the brand or product in a new and creative way! We've hosted custom events with major corporate partners such as Maybelline, Amazon, T-Mobile, Capital One, Vineyard Vines, Converse, Puma, Adidas, Fila, Hollister, Coach, Journeys, Bai, SoulCycle, TruTV, Well + Good, CAA, The Wing, Yext, Lagos, Bond Vet, and more.
In-Store Events
We host a variety of different custom events and activations at stores across the country! At our events, we are able to interact with customers, share a behind the scenes experience of our design process, and offer a unique, one-of-a kind shopping experience. Jordana's Customization Station has partnered with a wide range of stores nationwide including Bloomingdale's, Saks, Nordstrom, Bandier, Ugg, Everafter, Lester's, Vera Bradley, and more.
Parties & Celebrations
The by Jordana team works at a variety of parties and celebrations, such as Bar and Bat Mitzvahs, Weddings, Birthdays, Sweet Sixteens, Holiday parties, and more. At these parties, we offer a variety of different customization options, designs, art menus, and products to create a memorable experience for the hosts and the guests.